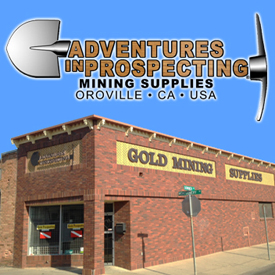 Visit the AIP Mining Supplies Store or Shop Online Now That You're Here! WORLD WIDE SHIPPING!
You've seen Adventures In Prospecting Series at Prospecting Channel and/or on Television. Now visit The Adventures In Prospecting Mining Supplies Store!
Store Features:
FREE Parking
FREE Gold Panning Lessons
TV Screen Playing Full Versions of Adventures In Prospecting
Knowledgable Miner's to Help meet your Mining Goals.
All the Gold Gettin, Treasure Seekin; Gear: Metal Detectors, Gold Pans, Sluices, Suction Devices, and much more arriving every week!
We now carry DIVE GEAR!
Come on by, give us a call, or order here online!

God Bless & Gold Luck to 'Ya!
SHIPPING AND PAYMENTS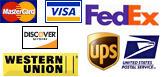 ADVENTURES IN PROSPECTING FEATURES THESE BRANDS

Inventory/Prices Vary From Oroville Store Location
STORE LOCATION STOCKS THESE PRODUCTS AND MORE THAT ARE NOT LISTED HERE.
HIGHLIGHTED ONES ARE AVAILABLE HERE ONLINE:
Dive Gear
"HOW TO" Books & DVDs
HYDRO FORCE NOZZELS
KEENE Sluices, Pans, Classifiers