KEENE HYDRO AIR SYSTEM
The HydroAir is a lightweight and highly efficient air supply diving system. The HydroAir is powered by a group 24 deep cycle marine battery or other similar 12 volt battery configuration. The dual air compressor system maximizes battery life by working only on demand by use of pressure switches. The compressors are mounted under water for cooling and providing minimum power draw and optimum air output. The sealed environment of the HydroAir system provides for its longevity and dependability. Its construction is of a heavy duty Marlex plastic in a "safety orange" color for high visibility and it is extremely stable, even in rough water conditions, due to its low center of gravity. Virtually maintenance free, the HydroAir is quick, easy and fun to use!
The HydroAir comes equipped with flotation, a vinyl float cover, stainless steel hardware, diving flag, built in straps and handles for easy carrying.
Includes 1 Hyrdro Air, two 30 foot air hoses, two low pressure regulators, 2 Body Harnesses, Low Pressure Reserve Air Tank, Air Fill Hose to fill inner tube in the field directly from compressor, and all hardware. Available in single airhose/regulator format and other airhose lengths upon request.
12V Battery Not Included.
Specifications:
Body Dimensions - 23" x 18"
Flotation Dimensions - 13" x 32"
Running Time - 2 to 8 hours depending on consumer requirements.
One Diver can achieve 75 feet in depth with other optional hose lengths.
Two Divers can achieve 25 feet in depth
Net weight of compressor unit with out battery 29 pounds. Net weight of hoses with regulators/reserve tank 22 pounds.

$2199.00 each
SHIPPING
USA: $225.00
Canada: Call or E-Mail for Shipping
Australia, New Zealand, Japan: Call or E-Mail for Shipping
Europe, UK, IR, Germany: Call or E-Mail for Shipping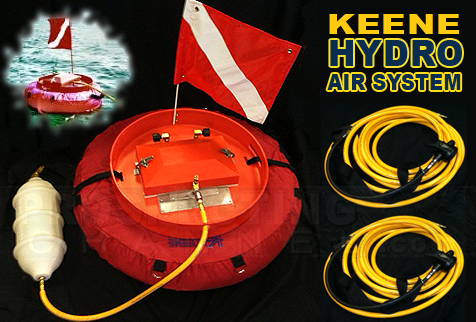 Ships to USA, Canada, Australia, New Zealand, Europe, UK, Ireland, Germany & Japan. International orders for this item outside the USA must contact us via email or telephone prior to placing an order here online to receive a shipping quote. PRICE ONLY VALID ONLINE

Questions? Call Our Customer Service: (760)936-3543
We ship same day or next business day. Payment available via Credit Card through PAYPAL. Worldwide Shipping available. Credit Card through PAYPAL, International Money Orders and International Cashiers Cheques. Contact us via e-mail for any international shipping questions.
Money Orders/Checks also accepted.
Send Money Orders/Checks Payments to:
Adventures In Prospecting Mining Supplies • 2111 Montgomery St • Oroville CA • 95965