The black sand flows down and the gold sticks around!
The Black Magic Bucket Miller Table streams a sheet of water over its special matted surface that holds up to 200 mesh minus paricles of gold to process your concentrate.
Mounts to includes 3 gallon bucket for anywhere recirculation. Just fill with water and run on included 450 GPH 12V pump. Spray bar, Gold-Scrapper and vial included.

8" x 17.5" recovery tray design.
$134.95 each
SHIPPING
USA: $29.95 USD
Canada: $64.95 USD
Australia, New Zealand, Japan: $79.95 USD
Europe, UK, IR, Germany: $79.95 USD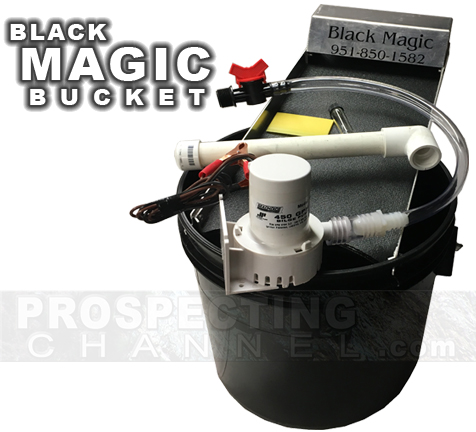 Ships to USA($29.95), Canada($64.95), Australia($79.95), New Zealand($79.95), Europe($79.95), UK($79.95), Ireland($79.95), Germany($79.95) & Japan($79.95)
$149.95 $134.95USD plus shipping

Questions? Call Our Customer Service: (760)936-3543
We ship same day or next business day. USA payment and available via PAYPAL. Other shipping available worldwide paid via International Money Orders and International Cashiers Cheques. Contact us via e-mail for any international shipping questions.
Money Orders/Checks also accepted.
Send Money Orders/Checks Payments to:
Adventures In Prospecting Mining Supplies • 2111 Montgomery St • Oroville CA • 95965