Roaring Camp Pay Dirt
GUARANTEED GOLD IN EVERY BAG
Approximately 10 Ounces of Pay Dirt (dirt with gold in it) from Roaring Camp Mining Company.
Every Bag has several flakes of California gold in it direct from Roaring Camp.
What is Roaring Camp? It's a place you can go and stay and pan for gold, fish, play in the clear mountain stream, eat a steak dinner and listen to live music. That being said, they put gold in these bags so that you will want to come visit! How's that for good marketing?
1 in every 50 bags also has a small nugget in the bag also known as a picker!
How much gold is in each bag? Enough to make you want more of course!
Great for practice panning, gifting, and teaching others how to pan real gold.
FREE Roaring Camp Color Brochure with more info on Roaring Camp included with pay dirt purchase.
$19.95
SHIPPING:
USA: $5.50
Canada: $13.95
Australia: $23.95
Europe: $22.95
Germany: $23.95
New Zealand:$23.95
Japan: $23.95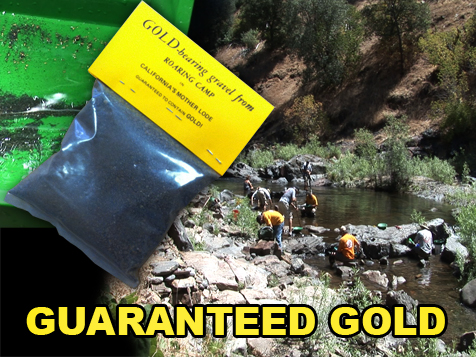 Shipping prices to USA($5.50). Canada($13.95). Europe, UK, Ireland, Germany ($22.95). Australia, New Zealand & Japan($23.95)
$24.95 $19.95USD plus shipping

Questions? Call Our Customer Service: (760)936-3543
We ship same day or next business day. USA payment and available via PAYPAL. Other shipping available worldwide paid via International Money Orders and International Cashiers Cheques. Contact us via e-mail for any international shipping questions.
Orders ship out next business day or same business day.
Money Orders/Checks also accepted.
Send Money Orders/Checks Payments to:
Adventures In Prospecting Mining Supplies • 2111 Montgomery St • Oroville CA • 95965