VAC PAC With FREE AIP DVD
Get at the gold you've been missing!
Simple to operate is the perfect tool to suck up the gold dust and larger pieces as well. Enough power to lift a rock larger than the hose diameter. Vacuum rich paydirt out of crevices wet or dry a the rate of one gallon per minute!
Features:
* High quality engine, throttle control, on/off switch, exhaust port
* 4.5 gallon capacity durable plastic container with easy snap-on lid; all accessories pack inside the container
* 6 foot flexible suction hose fits into friction inlet with downward circular projection inside
* Crevice nozzle
* Aluminum pack frame
* 10.5 inch riffled gold pan
* Special crevice brush tool
* Fuel bottle
* Recommended oil
* Aluminum pack frame with attachment fittings
* Designed for recovering black sand and gold that settles in moss, rough bedrock, crevices, and in desert dry washes and is simple to operate
* Works mainly on dry materials, but will pick up damp materials and small amounts of water
* Operates with a 2-cycle gas engine that requires 50:1 ratio oil mixture
* VAC PAC can be attached to blower style drywashers and used as source of power to operate these styles of drywashers
* VAC PAC has a 4.5 gallon capacity; when full, suction will stop and the contents can be emptied into a classifier and then run through a sluice, an automatic spiral panner, a Gold Cube, or other piece of fine gold recovery equipment of your choosing
* When full, the VAC PAC still has 5 inches of space between the inlet fitting and the exhaust port. This space is great enough to keep all material in the container so none is lost out the exhaust
* You can carry this machine while it is operating, but it is advisable to remove VAC from the PAC and work the small crevices thoroughly, since that's where the gold is generally found
* Vac Pac fittings can be interchanged with Shop Vac accessories -- how convenient!
BONUS DVD AIP006 Featuring How to Vacuum and Drywash for Gold!
Ready to ship.
$579.95 each
SHIPPING:
USA: FREE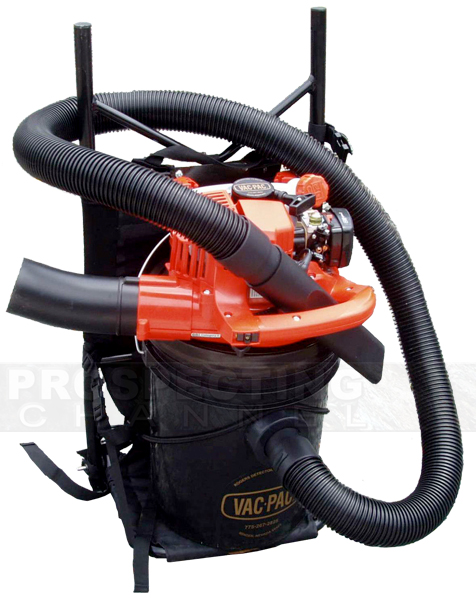 Ships to USA(FREE), No International Shipping Available for this item. PRICE ONLY VALID ONLINE
$599.95 $579.95USD plus shipping

Questions? Call Our Customer Service: (760)936-3543
Combined Shipping? Yes! Give us a call and let us know which items you would like. We will then send you an invoice with all your items and a combined shipping total to your email. We can also do this over the phone if you like! You can also email us a list of items you prefer. email: sales@prospectingchannel.com
We ship same day or next business day. USA payment and available via PAYPAL.
Orders ship out next business day or same business day.
Money Orders/Checks also accepted.
Send Money Orders/Checks Payments to:
Adventures In Prospecting Mining Supplies • 2111 Montgomery St • Oroville CA • 95965